The Story of Bewdley's Booksellers and Stationers
This study tells the intriguing story of the development of paper, writing materials, publishing, bookselling, and book lending, with special reference to Bewdley in the 17th and 18th centuries.
Pub.2010 and reissued 2022
46 pages
£5 +   p & p
*Please note this is an occasional paper, occasional papers come in spiral bindings.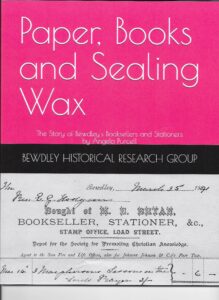 Also available on Amazon.
(Please note dispatch may take up to 10 working days.)