A Short History of Tanners, Curriers, Saddlers & Shoemakers in Bewdley from the 17th to the 20th Century
The leather industry was a very important part of Bewdley with numerous smelly tanneries, especially on Severn Side South. Learn how a cow ends up as a shoe.
Pub. 2003 
71 pages
£5 +    p & p
*Please note this is an occasional paper, occasional papers come in spiral bindings.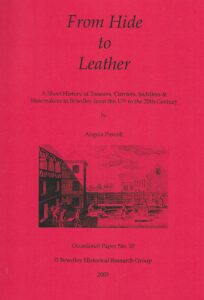 (Please note dispatch may take up to 10 working days.)